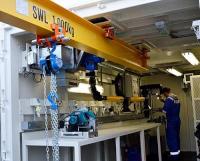 Offshore Cargo Carrying and A60 module company OEG Offshore (OEG) has been awarded several new rental and sale contracts in Europe, the Middle East and Africa worth USD 1.2 million.
The Dyce headquartered company, which specialises in the design, build, rental and sale of cargo-carrying units and modular cabins for the offshore oil and gas market, will deliver a range of units to operators, oilfield service and subsea engineering customers.
OEG will provide several DNV 2.7-1 A60 Zone 2 (ATEX Cat 3 compliant) Specialist Technician Workshops on a long term rental basis for maintenance work in Libya and Egypt, North Africa and Israel.
The Aberdeen firm will also deliver more than 10 standard A60 Zone 2 rental cabins to existing customers for projects in Morocco, Turkey and the North Sea as well as provide refurbishments to their ageing cabin fleets.
Build for sale module contracts include 20-foot DNV 2.7-1 A60 Zone 2 Critical Operations Fire and Gas Control Modules for an onshore gas plant in Tunisia. Other units include a Zone 2 Flat Pack Safety Storage Container and a 20-foot x 6.5-foot Zone 2 (ATEX Cat 3 compliant) Storage Unit both for installation on North Sea platforms. Further orders include a Safe Area Workshop with fume extraction system for decommissioning work as well as a Specialist Tooling Workshop; both are designed and built to 
DNV 2.7-1.
OEG Offshore VP of Sales, Rob Goodall says, "This is a tribute to the staff that have continuously developed long term and loyal customer relationships and delivered high quality standard and bespoke solutions for the industry. It also demonstrates our competitiveness in the current climate and our ability to provide tailored solutions with added value for our customers."
OEG's cargo-carrying division has secured a six-figure contract for a spread of DNV 2.7-1 certified offshore gas bottle racks, waste skips, half heights and containers to support a new customer's exploration activities in the Northern Adriatic area. Design modifications have also been incorporated to provide an effective solution to improve several operational aspects for the customer.