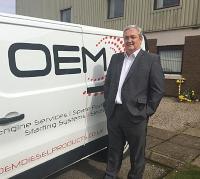 OEM Group has welcomed on board a new global business development manager as the company gears up for a significant period of growth in the UK and internationally. The firm created the position for industry veteran Jim George to support ongoing operations in Europe and the Middle East.
George has more than four decades' experience in the oil and gas industry with a track record across a diverse portfolio of companies covering operators as well as global supply chain firms.
His career includes 13 years at VetcoGray in various procurement roles culminating in category manager for the Eastern Hemisphere; eight years working in drilling waste management at Oil Tools Europe; two years at Kuehen + Nagel, the world's third largest transportation and logistics firm; and most recently, as the UK supply chain manager at DOF Subsea.
Based at OEM Group's Aberdeen headquarters, George will focus on all commercial matters as well as building and strengthening client relationships across all regions.
Barry Park, managing director of OEM Group, says, "Jim has a strong track record and a commendably deep knowledge of the oil and gas industry. I'm confident that given Jim's previous successes across different types of businesses that his appointment will play a key role in developing strategic relationships in the UK and oversees in line with our business objectives and overall growth strategy. We look forward to Jim becoming an integral part of our team and an invaluable asset to OEM Group as we enter our fifth year in business."
George says, "Having seen how OEM Group has continued to flourish and grow during what has been the harshest fiscal climate for the oil and gas industry this century, it demonstrates that this is a company with a robust plan and vision, reliable products and services and strong leadership. It's a truly exciting time to be joining the Group and I look forward to building on its current successes and being part of developing the company further."