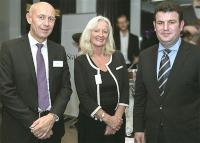 Statoil's representative office in Berlin was officially opened on 27 November by marketing and trading senior vice president Rune Bjørnson. The opening of the office reflects Statoil's increased ambitions in the German market.
"I am very pleased that Statoil now has established a Berlin office. It marks a further step-up in Statoil's engagement in Germany. We are looking to take an even more active part in the Germany energy discussion, which is natural given our commercial role," says Bjørnson.
High-level representatives from the German government, Parliament, industry and academia participated in the opening, including Hubertus Heil, vice chairman of the SPD group in the German Bundestag.
The Norwegian government was represented by the new ambassador to Germany, Elisabeth Walaas, and deputy director general Erik Dugstad from the ministry of petroleum and energy.