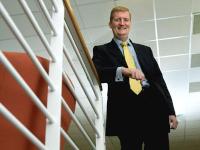 Described as "the best gathering in the UK of active Decommissioning people", bookings have now opened for the annual Offshore Decommissioning Conference, jointly organised by Decom North Sea and Oil & Gas UK.
Sponsored by EY and entitled 'Delivering the Future Together', the conference will reflect DNS' key strategic themes of Collaboration and Innovation, with a focus upon bringing the decommissioning sector together to ensure future projects are undertaken in the most efficient and cost effective ways.
The conference will be chaired jointly by Nigel Jenkins, Decom North Sea's chief executive, and Mick Borwell, Oil & Gas UK's environmental issues director. Joining them, a line-up of industry experts will share their knowledge of decommissioning, whilst delegates will have the opportunity to attend workshops and engage in a range of interactive discussions between operators and contractors.