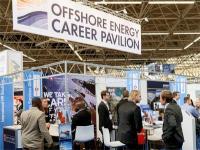 Offshore Energy Exhibition and Conference 2014 will be held on 28 & 29 October 2014 at the Amsterdam RAI, the Netherlands. 2014 brings the 7th edition of Offshore Energy.
Offshore Energy is the fastest growing gathering of offshore industry professionals. Founded in 2008 with 70 exhibitors and 1,765 visitors, Offshore Energy has been breaking records year after year. The 6th edition of Offshore Energy on 15 & 16 October 2013 brings together some 500 exhibitors and over 8,500 visitors representing 50 nationalities.
The organization expects that the event will continue on its path of steady growth. Offshore Energy 2014 will host between 500 and 600 exhibitors and is expected to attract over 10,000 professionals from all over the world. Both the exhibition and the extensive conference program of Offshore Energy 2014 will address the technical, operational and commercial challenges associated with industry growth.
The 2014 technical program will once again feature an international faculty of speakers covering a broad palette of topics. Meetings range from high caliber panels and technical sessions to annual meetings of industry organizations and masterclasses, catering to professionals from board level to operational level and young talents.