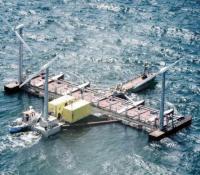 According to the International energy Agency (IeA), as the world's population increases, the energy demand will rise by 40% in 2040. But, at the same time, the energy industry faces challenges presented by a changing climate.
Changes that require a drastic reduction of greenhouse gas emissions. so, it's no surprise that renewable energy will be a very important part of the worldwide energy supply.
The IeA even reported recently that renewable energy could surpass coal, nuclear power, and natural gas as the world's largest source of electricity within just 15 years.
In this light it speaks for itself that Offshore energy exhibition & Conference 2015 (OeeC), one of the leading international conferences on all facets of offshore energy, saves some spots for the developments and innovations in renewable energy.