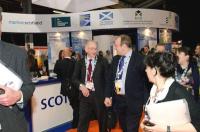 Offshore wind, wave and tidal all play key roles in next week's All-Energy 2014 (Aberdeen Exhibition and Conference Centre - AECC, 21-22 May).
Nearly 11 hours of conference time at the UK's largest renewable energy exhibition and conference is devoted to offshore wind –including 105 minutes to floating offshore wind; a further nine and a quarter hours to wave and tidal; and a 90-minute Marine Scotland session spans all three technologies in 'Offshore renewable energy in Scottish Waters – policy, planning and licensing for the present and future'.
Added to that there are two repeating full-day technology update programmes in both the Offshore Wind/O&M, and Wave and Tidal seminar theatres on the exhibition show floor; and offshore renewables also play a key role in the inaugural All-Energy Share Fair.