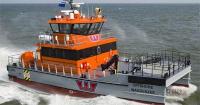 Offshore Wind Services' (OWS) latest Damen vessel – the Fast Crew Supplier 2008 'Offshore Waddenzee' - was officially named at Damen Oranjewerf Amsterdam, on August 22.
The FCS 2008 is the second vessel the Dutch company, which is a specialist in the provision of crew transfer vessels to the offshore wind industry, has ordered this year. In January, OWS became the first company to order the next generation Damen Twin Axe Fast Crew Supplier 2610. This vessel is being built in Singapore for delivery later this year.
The Offshore Waddenzee, which was christened by Ellen Cornelise Nieuwenhuis, the wife of Pieter Tavenier, ENECO Managing Director Wind, will be working alongside two other OWS vessels on the construction phase of the Luchterduinen Offshore Wind Farm for Van Oord.