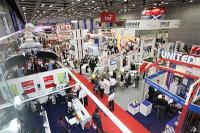 Region's Number One Oil and Gas Event, OGA 2015, organized by Malaysian Exhibition Services Sdn Bhd, aims to tackle ongoing challenges and emerging opportunities in the Asian Oil & Gas industry.
In the past decade, Malaysia's Oil, Gas and Energy (OGE) industry has been contributing about one-fifth to the national GDP (Gross Domestic Product).
As part of the Economic Transformation Programme (ETP) that will propel Malaysia forward into a truly developed nation, the OGE sector is targeting 5 percent annual growth until 2020. The 12 Entry Point Projects (EPPs) and two business opportunity thrusts identified are projected to deliver RM131.4 billion in Gross National Income (GNI) and create an additional 52,300 jobs in the OGE sectors.
Faced with maturing oil fields, declining domestic production and a finite fuel source in the face of accelerated economic growth, the main challenge for energy suppliers is not just the availability of alternative energy supply but also the commercial potential of these resources. The Oil & Gas Asia 2015 (OGA 2015) exhibition, which will be held from 2 - 4 June at the Kuala Lumpur Convention Centre, will see some 23,000 visitors arriving on our shores throughout the duration of this event.