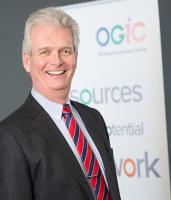 A selection of Scotland's leading oil and gas research and development institutions will be heading to China next month (5–10 March) to strengthen ties, share knowledge and increase business opportunities with leading innovation houses in Beijing.
Organised by the Royal Society of Edinburgh (RSE), in partnership with the Oil and Gas Innovation Centre (OGIC) and DataLab, the trip will look to identify how Scotland and China can work together to solve technological challenges faced by the offshore industry.
Rotimi Alabi, founder of RAB Microfluidics, Willie Reid, Director of the Strathclyde Oil & Gas Institute and Professor David Lane FRSE, founding Director of the Edinburgh Centre for Robotics, will showcase their latest technological developments in data processing and artificial intelligence (AI) to representatives from the National Natural Science Foundation of China (NSFC) and the Chinese Academy of Sciences.
The 5-day workshop will be the first in a series of ongoing forums, aimed at creating a foundation for future Scotland–China collaboration in research and innovation, identifying ways to increase investment and speed up the commercialisation of new technology.
Ian Phillips, Chief Executive of OGIC, comments, "While Europe and the US have traditionally led in scientific development, China is quickly establishing itself as a science and technology powerhouse. A key indicator of this is its research and development spend, which has grown remarkably over the past two decades."
"China shares the UK's drive to increase the development and commercialisation of new technology, making it mutually beneficial for both nations to work together, sharing knowledge and expertise in order to overcome the associated barriers. By continuing to work closely with the RSE, we can identify the emerging opportunities and seek to build stronger business links and partnerships with China's most influential research and innovation houses," says Phillips.
Founded in 1783, the RSE facilitates public debate, research programmes, educational projects and informs public policy discussion. Its unique multi-disciplinary approach enables it to draw from and link with a broad spectrum of expertise to advance the understanding of globally-important issues.
Professor Marian Scott FRSE, Vice-President International at the RSE, comments, "This RSE-led delegation with participants from OGIC and DataLab will open up new dialogue and opportunities for collaboration between Scotland and China in Science and Technology."
The workshop will take place from 5–10 March in Beijing. For more information about OGIC, visit www.ogic.co.uk.