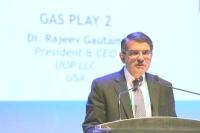 Continuing to provide reliable and affordable energy often requires strong leadership and bold decision-making from key executives at top oil and gas companies. Those outstanding individuals that are driving the industry forward will be sharing their visions of the future at a major conference in Asia next month.
The 18th Asia Oil and Gas Conference, which will take place again in Asia's oil and gas capital Kuala Lumpur from 17 – 19 May, brings these 'Heroes' of the oil and gas industry together to reflect on current industry issues and give their opinions on how to address the challenges that exist both now and in the future.
The inaugural CEO Strategic Dialogue and the Energy Hotspot sessions are just two of the many sessions in which top-level industry decision-makers will explore the opportunities for the Asian oil and gas industry in the face of challenges arising from the current oil price environment. Under the theme "Realising Opportunities Amidst Challenges", answers will be sought on trending topics such as novel technology exchange, collaboration strategies, monetisation of unconventional resources and addressing tensions between suppliers and consumers of gas to highlight a few.