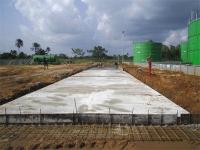 Mart Resources, Inc. and its co-venturers, Midwestern Oil and Gas Company Plc. (Operator of the Umusadege field) and SunTrust Oil Company Limited are pleased to provide the following update on Umugini pipeline operations.
Oil flow has commenced through the 51-kilometer long Umugini pipeline and into the Trans Forcados crude oil export pipeline system that connects to the Forcados oil export terminal.
The commencement of continuous oil injections from the 12-inch Umugini pipeline to the Trans Forcados export pipeline followed the completion of pipeline tie-in at the Eriemu flow station and other start-up activities including line fill. Mart holds an effective 15% interest in Umugini Asset Company Limited, which is the owner of the Umugini pipeline.