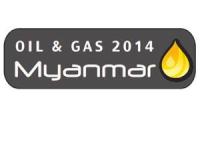 A brand new trade event, Oil & Gas Myanmar 2014, which focuses on Oil & Gas Exploration and Production & Refining, will be held at the Myanmar Convention Centre (MCC) from 15 to 17 October 2014.
Energy sector marked for fast advancement Myanmar has in possession, 7.8 trillion cubic feet of proven natural gas reserves, an estimated US$75 billion bounty of natural gas, and 50 million barrels of crude oil. Backed by recently relaxed foreign investment regulations, Myanmar's market is favourable for foreign entry, in particular from China, Thailand, Indochina and other bordering countries/regions.
Some of the world's largest oil and gas companies with vested interests such as China National Offshore Oil Corporation (CNOOC), CNPC, Daewoo, ESSAR, Nobel Oil, PetroVietnam, PTT Exploration and Production Public Company Limited (PTTEP) and Total, are actively involved in onshore and offshore projects. These include the Yadana and Yetagun Projects - two major offshore oil and gas projects; and the Zawtika and Shwe Gas Projects which when fully operational in the near future, will see oil and gas being exported mainly to Thailand and China.