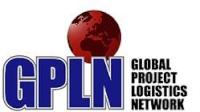 The Global Project Logistics Network (GPLN) will offer their Heavy Transport & Lifting course at SPE Offshore Europe, one of the most important oil & gas exhibitions in the world.
"Our course is uniquely tailored to professionals working in logistics for the oil & gas industry," said Gary Dale Cearley, Executive Director of GPLN, "The course was designed with such professionals in mind. The course has been offered successfully in Singapore and in Antwerp earlier this year to breakbulk professionals who often ship for such petroleum industry clientele."
The course covers various aspects of heavy lifting for exceptional transports as well as load securing. A very strong emphasis on all aspects of safety during heavy transport is built into the curricula. GPLN's Heavy Transport & Lifting course is taught by a European based certified professional engineer with more than two decades experience in the field of project transportation of extremely large cargoes. The course is taught over a full day. In addition to the course, GPLN will also be present at the exhibition with their own booth representing their membership around the world.