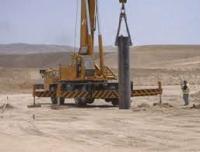 Oil Search Limited reported that at 06:00 hours Kurdistan Region of Iraq (KRI) time Aug. 6, the Taza 2 well in Kurdistan in Kurdistan, Iraq was at a total depth of 13,779 feet (4,200 meters) in a 6.125 inch hole.
During the week, planned blowout preventer (BOP) tests were successfully carried out and hole stabilization operations conducted to treat mud losses encountered last week. Once the well is confirmed to be stable, the hole will be enlarged prior to installing a 5 inch liner and undertaking a comprehensive testing program as planned.
Taza 2 is located 6.21 miles (10 kilometers) north-west of Taza 1 and is designed to appraise the hydrocarbon-bearing intervals discovered by Taza 1 (Jeribe/Dhiban and Euphrates/Kirkuk Formations), as well as explore deeper Tertiary and Cretaceous targets including the Shiranish Formation.