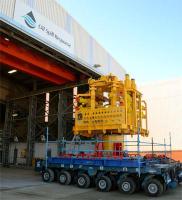 Oil Spill Response Limited (OSRL), the global oil spill response co-operative funded by more than 160 oil and energy companies, announced the opening of a new Base in Saldanha Bay, South Africa, to support regional and global response operations. The Base houses cutting edge well capping equipment designed to shut-in an uncontrolled subsea well, marking a major advancement in Africa's oil spill response capability.
The Saldanha capping stack is available to oil and gas companies across the industry through OSRL's Subsea Well Intervention Service (SWIS) which provides for swift subsea incident response around the world. The integrated subsea well intervention system includes four capping stacks suitable for international use and two hardware kits for debris clearance, BOP intervention and the subsea application of dispersant at a wellhead. The equipment can be used for the majority of known subsea wells in water depths up to 3000m.
The SWIS equipment is currently stored in three international locations - Stavanger, Norway; Singapore; and Saldanha Bay, South Africa; and is maintained ready for immediate mobilisation and onward transportation by sea and/or air in the event of an incident. Further capping and dispersant equipment will be delivered for storage in Brazil by the end of this year. A global containment solution is also being developed to supplement the intervention system and will be ready for use by the end of 2014.