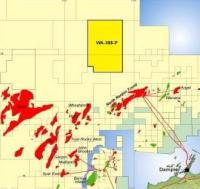 Oilex Ltd says that its application to convert the Special Prospecting Authority (SPA 17 AO) to Exploration Permit Application (STP-EPA-0131) has been approved by the WA Department of Mines and Petroleum (DMP).
The committed work program for SPA 17 AO was fulfilled by the acquisition, processing and interpretation of a 4,060 line km gravity gradiometry/magnetic survey (Survey). Under the terms of the SPA, Oilex had exclusive rights to negotiate a formal exploration permit with the Government of Western Australia. The terms of the SPA state that the area retained as an exploration permit from within the SPA is limited to 30-50% of the total area.
The final report for SPA 17 AO incorporating the newly acquired Survey data with 2D seismic, regional gravity, magnetic, surface geological and well data, confirmed Oilex's structural model of the Wallal Graben and its extension into SPA 17 AO.