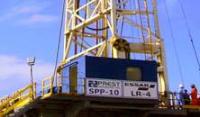 Oilex Ltd has appointed Mr Chris Bath as Chief Financial Officer (CFO) and Company Secretary, with effect from 24 October 2014. Consistent with Company policy, Mr Bath will not be joining the Board of Directors at this time.
Mr Bath is a Chartered Accountant with significant experience in the energy and resource sectors in both Australia and Asia. Most recently he was CFO and Company Secretary for Buru Energy Limited, an ASX S&P/ASX 200 listed oil and gas company. Prior to Buru, Mr Bath was Deputy CFO Asia Pacific for a Fortune 500 global commodity business, based in Singapore.
Mr Bath has been involved in the energy and resource sectors operating across Asia and with listed entities in Australia, Indonesia, Singapore and the United Kingdom. He brings experience of debt and equity markets, mergers and acquisitions, joint venture management and operations.