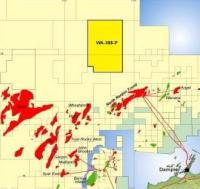 Oilex Ltd announce that its wholly-owned subsidiary, Admiral Oil NL, has been notified by the Government of Western Australia Department of Mines and Petroleum of its two successful applications for contiguous gazettal blocks L12-08 and L12-09. This area covers 6,444 km2 (~1,600,000 acres) in the onshore Canning Basin, Western Australia. Combined with the adjacent, 100%-owned Special Prospecting Authority SPA-0055, Oilex now controls acreage encompassing the entire Wallal Graben, a deep undrilled half graben in one of Australia's premier emerging onshore unconventional basins.
Oilex's 100%-owned acreage position now encompasses 17,840 km2 (~4,400,000 acres) in an area that may have similar geological characteristics to Oilex's Cambay Field and possibly being prospective for oil and liquids-rich gas.
According to the US Energy Information Administration (EIA), the Canning Basin has the largest unconventional hydrocarbon potential in Australia. Significant farm-in activity related to potential unconventional resources in Australia has recently occurred and involves global industry majors.