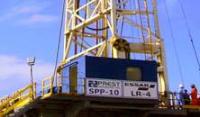 Oilex Ltd has received endorsement from the relevant authorities of the Government of India (GoI) for the sale of gas from Cambay Field, specifically from the Cambay-77H well.
This latest endorsement by GoI follows the announcements made by the Company on 15 July 2014 and 5 December 2014, in which it was reported that Oilex was authorised to sell gas from Cambay-73 and Bhandut-3 respectively.
This represents another important milestone for increasing production from the field and supplying gas to the local market, where users are currently paying a premium to Brent and WTI on an energy equivalent basis.
The Cambay Joint Venture will now establish the appropriate production facilities for Cambay-77H and initially connect Cambay-77H to a low pressure pipeline grid to service the local area. An approval to sell gas from Cambay-77H and Cambay-73 removes part of the contingency in the assessment of recoverable quantities of gas as Reserves.