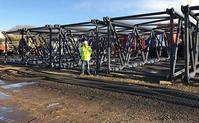 Oilfield Machinery Ltd (OilMac), based in Forfar, has invested a significant seven figure sum in the Port of Dundee, as it continues its commitment to the city.
OilMac, renowned for buying and selling redundant and surplus equipment to maximise value recovery and reuse, has purchased a 1,500-tonne crane to be utilised within its new heavy lift division – OM HEAVY LIFT. One of the largest capacity fixed cranes in Europe, it is capable of lifting up to 900 tonnes of the centre of a boat or barge.
Located permanently on the new heavy lift pad, on the newly constructed quayside, the crane will significantly enhance the Port's decommissioning capabilities and is a vital asset for future offshore wind projects in Dundee.
The company is anticipating crane operations to begin at the start of 2018, with the creation of around four direct new positions, including a crane/heavy projects manager, crane driver, appointed personnel and lift supervisor.
OilMac's investment supports Dundeecom's vision – which recently brokered a joint venture between Dundee Port and AF Gruppen's subsidiary, AF Offshore Decom UK – to establish Dundee as a multi-disciplinary, internationally recognised decommissioning centre of excellence.
Alex Fyfe, managing director at OilMac, says, "The market dynamics in the oil and gas industry have changed significantly with operators now starting to prioritise decommissioning. The growth in this market over the next 10 years will be huge, and we are working closely with Forth Ports, Dundeecom and AF Gruppen to attract a large share of this."
"It is our goal to offer cost effective heavy cranage – with customers knowing from the beginning what those costs will be – with the ability to professionally and safely, load, unload, move and store equipment in Dundee, with no advanced warning. We are continually investing to strengthening our portfolio, and through collaboration with Dundeecom and its partners, we are able to offer customers access to an efficient, fixed price decommissioning solutions," adds Fyfe. SEO paslaugos gera kaina, Google Adwords, elektroninių parduotuvių bei internetinių svetainių kūrimas - Eugenijus Mockaitis
David Webster, port manager at the Port of Dundee, comments, "We have a great working partnership with OilMac and this significant investment is further good news for Dundee and for the port. Our vision is to position the Port of Dundee as a major decommissioning and renewables centre, and to ensure that customers gain access to an efficient, cost effective solution."
Callum Falconer, CEO of Dundeecom, comments, "This is a significant differentiator in what the Port of Dundee can offer, and is another milestone in Dundeecom's strategy of creating a decommissioning hub in the city of Dundee."