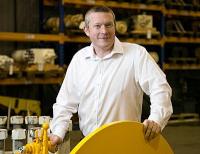 Forfar-based, Oilfield Machinery Ltd, (OilMac), has announced the launch of the East Coast Centre for Energy Logistics (ECCEL), a new logistics hub to support offshore wind farms in the North East.
The hub will be located in the Port of Dundee, which is currently developing a new £10million heavy lift quayside by owners Forth Ports.
Spring-boarding OilMac's new heavy lift division – OM Heavy Lift – into the offshore wind sector, ECCEL will also be supported by transport consultants, Collett & Sons, and fabrication specialists, Motive Offshore.
The hub combines the heavy lift facilities and laydown space at the port with dedicated engineering services, and has been created to meet the logistic and marshalling needs of offshore wind farms. Clients can benefit from heavy lift, light fabrication, self-propelled modular transporters and haulage support.
Operations are anticipated to start as early as 2018, with the creation of around four new positions.
Alex Fyfe, managing director at OilMac, says, "We are delighted to bring ECCEL to Dundee. The hub's location, together with its collective capabilities and expertise, offers east coast wind farms a range of low-cost solutions for marshalling, staging, assembly and load-out operations."
"ECCEL's launch is hugely positive for the broader offshore wind sector, and we have significant sector knowledge which will allow us to succeed in this industry," adds Fyfe.
David Webster, port manager at the Port of Dundee, comments, "We warmly welcome OM Heavy Lift and the ECCEL logistics hub to the Port of Dundee. This significant investment is further good news for Dundee and for the port."