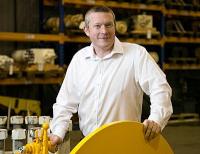 Aberdeenshire-based Oilfield Machinery Ltd (OilMac) has confirmed its commitment to the Port of Dundee, through a programme of investment.
The company has begun operations within the Port, launching a new facility located on Prince Charles Wharf, which is currently being developed by Forth Ports at a cost of GBP 10 million.
OilMac, renowned for buying and selling redundant and surplus equipment to maximise value recovery and reuse, has also purchased a 170-tonne crawler crane. The only permanently based oil and gas cargo handling crane in the port, it will be utilised for vessel mobilisation, oil and gas and renewables activities.
Alex Fyfe, managing director at OilMac, says, "This is a really exciting time for OilMac; it's the first step in our strategic investment in Dundee. We firmly believe that the Port is ideally placed to service the increasing demands of emerging North Sea sectors, including the growing decommissioning and offshore wind industries. We are fully committed to supporting these sectors – as well as the city of Dundee – in order to capitalise on the significant opportunities they present for all. Collaboration is key in this next era for the North Sea, and we look forward to working with the Port of Dundee and its associated companies, as it works to become a centre of decommissioning excellence."
David Webster, manager at the Port of Dundee, comments, "It's great to welcome OilMac to the Port of Dundee. The Port is already recognised as a hub for the oil and gas sector and we regularly see large rigs docked for maintenance and project preparation. The Port is also undergoing a major multimillion pound investment programme to ensure that we are well positioned and ready to attract future decommissioning work in the sector. We look forward to working with OilMac and seeing its new crawler crane in action."