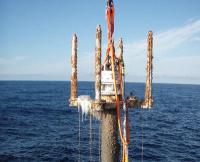 Offshore Installation Services (OIS), an Acteon company, has been awarded a contract by Antrim Energy to decommission four subsea wells in the central North Sea. The offshore scope of the campaign, which also includes six wells from Centrica Energy, will include complete offshore and onshore project management, vessel charter, equipment and personnel.
Rhodri Davies, OIS president, said, "Since 1996, OIS has successfully completed more than 118 well decommissioning projects without a single lost-time incident. With Antrim Energy and Centrica Energy now involved in our 2015 subsea well abandonment campaign, OIS is currently decommissioning 10 subsea wells within the UK continental shelf. As an enabler of multi-operator campaigns, OIS values collaborations such as this in the decommissioning field and is well suited to working alongside progressive organisations such as Antrim and Centrica."
The wells, in categories 2.1 and 1, will be abandoned using Acteon sister company, Claxton's, Suspended Well Abandonment Tool (SWAT). SWAT is a diverless, vessel-based approach and will be completed as part of a multi-operator campaign in summer 2015.