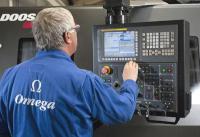 Omega Completion Technology has appointed John Donachie as managing director as the company plans for growth in key oil and gas locations in the UK and overseas.
Mr Donachie joined the Aberdeen headquartered company last year as corporate development manager and has been promoted to the role of managing director to grow the business internationally. He has his sights on delivering turnover of £12 million next year from increased activity in the North Sea, Middle East and Far East.
Omega is an independent well completion and intervention equipment developer and manufacturer and launched in 1998. The firm employs 60 people at its 21,000 sq ft office and workshop in Kirkhill Industrial Estate and plans to recruit a further 20 people in the next year to support its growth. The company is experiencing a surge in demand from major operators in the Middle East where it has secured more than £1 million of new business in the last six months.
Mr Donachie said: "Omega has grown organically over the last 15 years, carving a successful reputation as a leading innovator and manufacturer of completion and intervention technologies. I am now focused on taking the company on the next stage of its journey as we have identified significant opportunities with operators with our practical and robust tool portfolio. We have the design engineering, manufacturing capabilities and field services competence to take a product from idea to installation and respond rapidly to client challenges."