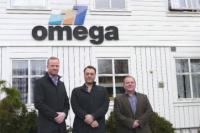 Omega Subsea UK opens its doors focussing on providing a skill based, assured, competent workforce to national and international clients.
Further to the investment by Norwegian market leader, Omega AS, in Accpron Subsea Management (ASM), the goal and objective is to establish a strategic business unit to facilitate organic growth for Omega Subsea UK and capitalise on the added value market within the UK, European and African markets that is currently offered. The areas of key focus in order to implement the strategic expansion is the delivery of highly experienced, competent and professional personnel to the Subsea Engineering and Operations sectors of the oil and gas, renewables and energy industries.
Omega Subsea UK's ultimate goal is to create a 'Total Project Management' service, whereby entire project teams are provided to clients in order to execute projects. This service is offered on a 'Cradle to Grave' basis; i.e. from tendering activity through contract award execution and final project closeout.
Omega Subsea UK Director, Alistair McKee commented "Omega Subsea UK has been created as the outlook for the energy sector is encouraging, but a shortage of skilled employees is the main barrier to growth for many Tier One, Tier Two and Tertiary Contractors. The sector is increasingly moving into challenging conditions which requires experienced personnel to provide solutions, yet many companies are faced with ongoing skills shortage. Our structure is contained to a group of competent senior executives from the international subsea industry with an average of 15 years' experience within E&P and subsea contracting companies which is our key target market for service delivery.