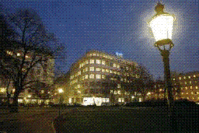 OMV and Montanuniversität Leoben are expanding their existing cooperation and working together on introducing a new degree program - the International Petroleum Academy. OMV is doubling investment in research and teaching. The Petroleum Academy will increase student numbers and facilitate a more international pool of graduates.
OMV launched a job initiative in July 2013, as the company's growth plans will require an additional 1,600 technical employees for the exploration and production of oil and gas by 2016. There is strong demand for petroleum engineering and geosciences graduates in addition to experienced experts. Intensifying cooperation with Montanuniversität Leoben is an important step to increase the potential of recruiting graduates with the necessary expertise.
The new student curriculum is at the heart of the closer cooperation: a new Master's degree will be launched in autumn 2014 at the International Petroleum Academy. Theory and practice will come together in interdisciplinary projects. Management skills such as a foundation in economics and communication will be taught alongside health and safety and a responsible approach to society and the environment. The International Petroleum Academy will offer cutting-edge educational approaches combined with practical industry expertise.