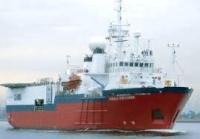 Octanex N.L. has been advised by OMV New Zealand Limited (OMV), the Operator of the offshore Taranaki Basin permit PEP 53537 (Permit), that the planned new 2D seismic survey, named Mohua, has been acquired in the Permit.
OMV has confirmed the survey vessel, 'Aquila Explorer', commenced acquisition of the Mohua survey on Saturday, 19 April 2014. After experiencing weather delays both prior to commencement and during acquisition, the survey was completed at approximately 9:00 am NZT today, Tuesday, 22 April.
The survey was shot using an eight (8) kilometre streamer and acquired 203.65 km of new 2D seismic data within and adjacent to the Permit.