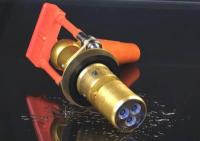 The highly-efficient Diamould product line of connectors for subsea and downhole applications relies on VICTREX® PEEK polymer.
With proven performance in hostile environments, the high performance thermoplastic makes the connectors suitable for deepwater and high pressure, high temperature (HPHT) wellhead and downhole applications. Diamould connectors, developed and manufactured by OneSubsea™, are capable of wet-mate and de-mate cycles without loss of operational integrity, and are rated to 3,000 metre water depth due to the excellent insulation and long-term reliability of VICTREX PEEK.
Beyond reducing downtime due to its excellent resistance to sour gas and customer-defined critical chemicals, the high-end thermoplastic allows for additional cost savings through the optimisation of tooling and moulding equipment. The world leader in PEEK polymer solutions, Victrex, and OneSubsea will both be exhibiting at the Rio Oil and Gas show from September 15-18, 2014 in Rio de Janeiro, Brazil.