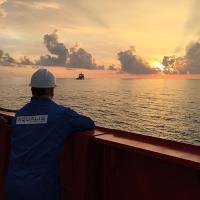 The Oil and Natural Gas Corporation Limited (ONGC), with the support of Aqualis Offshore, has matched its own pre-monsoon rig move record set last year offshore India. Aqualis Offshore has also secured a new contract extension to support ONGC.
ONGC executed a total of 33 jack up rig moves in April, May and June this year. Most the rigs were located on the west coast of India with one jack up on the east coast. Aqualis Offshore, working together with the ONGC Rigmove cell, assisted with most of these moves, placing each rig on its respective monsoon location before the onset of the seasonal adverse weather conditions.
Aqualis Offshore conducted the work with mariners from the company's Dubai office and with engineering support from London, UK.
"Last year I commented that ONGC's pre-monsoon rig move was an impressive milestone in Indian offshore operations. This year's achievement is just as remarkable. It is a huge logistics challenge that has been solved safely and effectively by everyone involved," says Rodger Dickson, Group Marine Director, Aqualis Offshore.
In May this year, following last year's successfully executed rig moving campaigns, United India Insurance Company once again reappointed Aqualis Offshore to provide marine warranty services to the Oil and Natural Gas Corporation Limited's (ONGC) assets offshore India.
Under the agreement, Aqualis Offshore will continue to provide marine warranty services to ONGC's fleet of jack-up rigs and mobile offshore production units (MOPU) in Indian waters.
Aqualis Offshore, part of Oslo-listed Aqualis ASA, is a specialised marine and offshore engineering consultancy focusing on the shallow and deep-water segments of the offshore oil and gas industry.