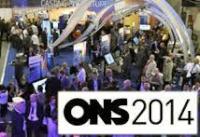 At today's innovation luncheon, the ONS Innovation Awards and were granted to finalists Fishbones and Schlumberger.
The Innovation jury evaluated totally 97 entries of 79 different small and large companies for the two awards. Out of these entries, the two winning companies were announced among five finalists in each category. All of the five finalists in each category were called to the podium to receive a diploma and recognition.
The SME Innovation Award to Fishbones Fishbones is an innovation based start-up company based on the Fishbone idea. The company was presented the SME Innovation Award (small and medium sized enterprises) for its completion method for making large numbers of laterals simultaneously out of one wellbore.
The jury members described the innovative method for stimulating reservoirs as having great potential for large value creation for the enterprises involved, both innovator and users.
"Being an alternative to hydraulic fracturing, the environmental gains can be considerable", the jury stated.
The other finalists nominated for the SME Innovation Award were: Control Cutter, Magseis, Seabox and Visco.
The Innovation Award to Schlumberger Schlumberger was presented the Innovation Award for their GeoSphere – reservoir mapping while drilling service. The service enables subsurface teams to get a picture of the reservoir, bringing new abilities to understand formation geometry, reservoir quality and oil water contacts.
The jury members considered the service to lower the risk of horizontal drilling, enabling safe and controlled landings of horizontal wells. They also described the service to be time and cost saving, as it removes the pilot holes from the rig program.