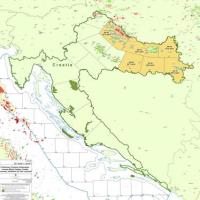 Minister of Economy, Mr. Ivan Vrdoljak opened Croatia's first onshore license round. This is the first of three tenders for onshore in forthcoming period. This license round comprises a total area of 14,600 km2 divided into 6 blocks.
As Minister Vrdoljak stated, in spite of the fact that Slavonija region was the main well field for crude oil and natural gas in last 40 years, the real potential was not accomplished. A simple comparison of Hungary and Croatia illustrates that whilst both have similar sized onshore area in the Pannonian, Croatia has only 33% of the number of exploratory wells drilled onshore compared to Hungary and less than 52% of the recoverable reserves discovered to date.
However, under explored (but proven) potential and geostrategic location, gives Croatia fully right to insist on becoming one of the most interesting countries on the map of oil and gas business in this part of the world.