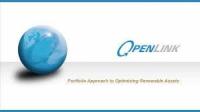 OpenLink says that Romande Energie has chosen its energy trading risk management, optimization, and regulatory reporting solution.
Romande Energie, a Switzerland-based energy provider, was seeking to replace its existing portfolio management and trading system, which had been in place for more than six years.
OpenLink was chosen for its flexibility, market know-how, ability to cover all business requirements, and proven track record in delivering successful solutions to the mid-tier energy sector.