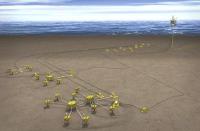 An industry forum that addresses challenges in subsea integrity management is being extended for a further three years with backing from global oil and gas operators.
Phase II of the The SURF IM Network is led by Wood Group Kenny with support from the Industry Technology Facilitator (ITF). Phase 1 was launched last year, supported by an industry wide group of 14 operators and has been extended to run on an annual subscription basis through to 2018 with an expected project value of around £300,000.
The SURF IM Network facilitates face-to-face and virtual forums for knowledge sharing and delivering solutions to subsea integrity and reliability challenges, focusing particularly on subsea hardware.
Kieran Kavanagh, Technology Development Director at Wood Group Kenny said: "This successful joint industry project focuses on knowledge sharing and finding solutions to shared challenges in subsea integrity. The Network represents a significant collaboration among its participants to provide solutions that will help to reduce risk, improve reliability and minimize life-of-field costs in the subsea industry and we're very happy to be working with participant operators to enable this."