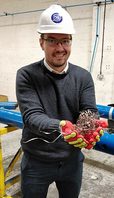 Churchill Drilling Tools, an oilfield service company specialising in drilling innovation, continues to report growing demand, despite the global reduction in drilling operations, for its tools and in particular its flagship product, the dart activated DAV MX™ CircSub.
Operators are increasingly recognising the value the DAV MX™ delivers with Churchill reporting a 6% increase in activations in 2017, and growing demand for the tool on P&A campaigns.
The DAV MX™'s resilience, which combined with its versatility, speed and reliability are enabling clients to cut operating time, was put to the test by a North Sea operator on a recent P&A campaign.
In hostile swarf-filled conditions, the operator activated one DAV MX™ CircSub four times across four separate runs, representing a first for the award-winning tool. The DAV MX™ has been activated extensively across challenging swarf environments, however, in previous instances it hasn't been necessary for operators to take advantage of the tool's multi-cycle capability.
The overall pre-planned project was to section mill and cement a 7-inch liner across multiple zones. In addition to hole cleaning and removing swarf from the annular space, using the DAV MX™ and its unique "Lock Open" feature, the operator had 100% mill bypass control capability allowing the string to self-fill and drain while tripping in and out of the well. This meant faster, cleaner and more controlled tripping, and therefore reduced operating time.
The 100% bypass also enabled the operator to displace and condition fluids and boost annular velocity protecting the milling assembly and its cutting knives.
In this instance, the operator had a greater margin for risk-taking because of the DAV MX™'s Emergency Shut-Off Dart (ESD), a unique fail-safe feature used on the rare occasions the valve becomes damaged by swarf or an unexpected event. Not only is the DAV MX™ CircSub the most resilient on the market, it's the only one that can be repaired in-hole. Knowing the ESD could seal any leak paths, maintain thru-bore and allow the campaign to continue without pulling out of hole encouraged the operator to push the boundaries and test the DAV MX™'s resilience to the maximum.
Churchill CEO, Mike Churchill, says, "This pre-planned campaign was a strong illustration of the DAV MX™ CircSub's durability. The swarf-filled conditions were amongst the most challenging we've encountered, but the operator successfully demonstrated our tool's exceptional resilience and versatility contributing to the completion of P&A operations several months ahead of schedule."
Churchill also said that operators' demand for the DAV MX™ CircSub had reached new highs – in 2017 the tool featured in more campaigns and across more applications than ever before. In addition, operators activated the tool on more than 45% of those campaigns, also a record.
Churchill continues, "Operators are increasingly adopting our DAV MX™ across a broadening range of applications, which confirms the trust and confidence the industry has in our tool. It also reflects a significant positive trend amongst operators to use the DAV MX™ on a pre-planned activation basis, rather than on a contingency basis. This recent North Sea P&A campaign adds to our strong track record and growing demand for delivering faster and lower risk abandonments through our patented reliability."