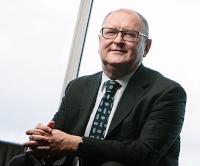 Global safety, standards and workforce development organisation OPITO has appointed John McDonald as CEO as the organisation seeks to further drive the international skills agenda for the oil and gas industry.
Mr McDonald has been Interim CEO since January and was previously UK managing director for OPITO after joining the organisation in 2012. The appointment comes after an external and internal recruitment process following the sudden death of former CEO David Doig earlier this year.
John Taylor, chairman of OPITO welcomes Mr McDonald to the role, saying, "John is a strong advocate for OPITO and has demonstrated that he brings the impressive blend of skills and experience we were looking for to lead the organisation going forward. OPITO exists to serve the needs of industry and we are continuously evolving to ensure that skills, standards and competency remain a high priority around the world."
Deirdre Michie, CEO of Oil & Gas UK comments, "Oil & Gas UK welcomes John's appointment as CEO and looks forward to working with him and his team to build on the very important work that OPITO already delivers on behalf of the industry."
Prior to joining OPITO, McDonald was a director at ACTVET, the government body charged with creating a vocational education and training system in Abu Dhabi. He was previously a director at the Scottish Qualifications Authority (SQA) and led the development of new products and services and created new markets in Asia and the Middle East. An alumni of Harvard Business School, he has worked at a ministerial level in several countries on capacity building projects in education and training.
He says, "I plan to ensure that OPITO continues to be the global industry-led organisation that is not only driving and delivering the skills agenda, but is also helping to modernise standards and the way we improve competency by embracing digital technologies."
"I am honoured to take up this role at a crucial stage in OPITO's development and will ensure our standards add value and continue to serve the needs of the 21st century learner. I look forward to building further links and partnerships with industry as we strive to ensure that safety is at the heart of decision-making and skills initiatives remain relevant, covering every stage of an employee's career and continue to attract people into our industry," adds McDonald.
OPITO is gearing up to launch a new industry-led initiative later this year to create a step change in training to standards through technology-driven innovation. The digital BOSIET suite will set a marker in the move toward integrated digital learning. A number of industry champions are currently road-testing the digital package which will provide an interactive, online alternative to the classroom element, giving users the opportunity to learn at their own pace and gain time back through reduced days away from work.
The digital theme will also influence this year's OPITO Safety and Competence Conference (OSCC) which will take place on 8 November 2017 at the Royale Chulan, Kuala Lumpur.
"NEW Generation New Thinking" is the topic for this year's event. With new technologies and ways of working developing all the time, the expectations of the younger generation are changing. It is vital that the oil and gas industry evolves with these changes and adapts its learning processes to meet the needs and demands of the future workforce.
Over 450 delegates and 35 exhibitors are expected to attend the event where leaders from the oil and gas supply chain and world-renowned experts in safety and competency will participate in keynote session and panel debates highlighting the ways in which young people can be encouraged to embark on a career in oil and gas and discuss the issues around attraction and retention.