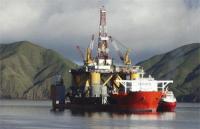 Octanex N.L. says that its 50 percent owned Malaysian joint venture company, Ophir Production Sdn Bhd (OPSB), has awarded a contract for the Engineering, Procurement, Construction, Installation and Commissioning (EPCIC) of a Wellhead Platform for the Ophir oil field offshore Peninsular Malaysia to Muhibbah Engineering (M) Bhd (Muhibbah).
The contract award follows a successful tender by Muhibbah, a large engineering company listed on Bursa Malaysia (the Malaysian Stock Exchange), with a track record of platform construction and installation.
The Ophir platform will be fabricated at the Muhibbah yard at Klang approximately 25 miles (40 kilometers) south west of Kuala Lumpur, before being installed in the Ophir field. The schedule for the EPCIC of the Ophir platform will see the platform installed in the field 3Q 2016. A jackup will then be mobilized to site and development drilling will commence. The current schedule has the Ophir field commencing oil production in late 2016.