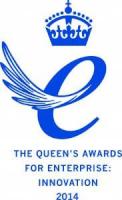 OptaSense has been presented with both the Queen's Award for International Trade and the Queen's Award for Engineering Innovation.
The awards are conferred annually by HM Queen Elizabeth II on the advice of the Prime Minister, to organisations with outstanding performance in international trade, innovation and sustainable development. They celebrate and encourage excellence in UK business.
OptaSense has won the Queen's Award for Innovation for its ground-breaking DAS technology which turns standard fibre-optic cable into an array of thousands of virtual microphones along the fibre length, enabling operators to 'hear' everything that is happening in and around their asset. DAS uses advanced sonar signal processing techniques, originally developed by QinetiQ, to deliver real-time Decision Ready Data™.
OptaSense's DAS technology has been successfully deployed in a wide range of onshore applications including microseismic monitoring, hydraulic fracture profiling, production flow monitoring and vertical seismic profiling (VSP), and is transforming the industry's ability to understand in real-time what is happening along the well bore and beyond.