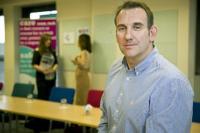 Optimus Seventh Generation, an Aberdeen headquartered behavioural change consultancy, will be exhibiting at the sold-out 2015 Offshore Decommissioning Conference, on the back of the successful completion of its first projects in the sector.
The three day conference, hosted by Decom North Sea and Oil & Gas UK in St Andrews from 17-19 November 2015,will address the rising demand for innovative and cost-efficient approaches to the sector, welcoming decommissioning and late life engineering teams from operators and contractors to come together to share their experiences and knowledge.
Optimus Seventh Generation's Mark Hutchinson, Business Development Manager, and Mark Walker, Client Partner, will be at the conference to showcase the company's experience, services and processes. They will share the importance of having a workplace culture that performs beyond compliance, by using the tools that most organisations already have in place, but in a meaningful and impactful way.