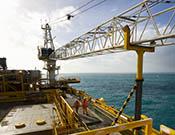 Origin Energy Limited Chairman Mr Gordon Cairns today announced Mr Scott Perkins has been appointed to the Origin Board as an Independent Non-executive Director with effect from 1 September. Mr Perkins also joins the Audit and Remuneration committees.
Mr Perkins has extensive Australian and international experience as a leading corporate adviser. He has held a number of senior leadership positions in both Australia and New Zealand. He was most recently Head of Corporate Finance for Deutsche Bank Australia and New Zealand and a member of the Executive Committee with overall responsibility for the Bank's activities in this region.
Mr Perkins was also a member of the Asia Pacific Corporate and Investment Bank Management Committee. Prior to that he was Chief Executive Officer of Deutsche Bank New Zealand and Deputy Chief Executive Officer of Bankers Trust New Zealand.
Mr Perkins is a Non-Executive Director of Woolworths Limited, Brambles Limited and a Director of the Museum of Contemporary Art in Sydney.
He has a longstanding commitment to breast cancer causes, the visual arts and public policy development.