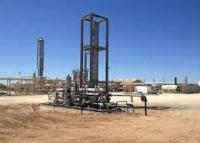 Oryx Petroleum Corporation Limited provides an update regarding development, production and sales for the Demir Dagh field in the Kurdistan Region of Iraq (KRI).
Commenting today, Oryx Petroleum´s Chief Executive Officer, Michael Ebsary, stated,"The excellent progress with our development drilling and facilities construction at the Demir Dagh field continues and we remain on track to have the productive capacity to meet expectations for 2014 and 2015.
Meanwhile, the market for crude oil produced in the Kurdistan Region of Iraq is evolving rapidly. Recent progress in discussions between the governments in Baghdad and Erbil with regards to exporting crude oil from the Kurdistan Region is very encouraging.