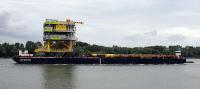 At Heerema Zwijndrecht, one of the production locations of Heerema Fabrication Group (HFG), the topside for the Oseberg Vestflanken 2 Unmanned Wellhead Platform sailed out on Sunday 25 June. The jacket followed on Monday 26 June.
In February 2016, Statoil awarded Heerema the contract for the Engineering, Procurement & Construction as well as the transport and installation of the platform. HFG carried out the engineering, based on a lean and innovative concept which was developed by HFG Engineering and Statoil in close cooperation. Fabrication started in June 2016. At the Zwijndrecht yard, HFG constructed within a year the 900 tonnes topside with a length of 25 metres, a width of 23 metres and a height of 20 metres and a 4,400 tonnes jacket with a height of 138 metres and a foot print of 36 x 36 metres. Heerema Marine Contractors (HMC) executes the transportation to the offshore location and will also perform the installation with HMC's SSCV Hermod in the Oseberg area in the Norwegian part of the North Sea, about 130 kilometres north-west of Bergen.
"We are proud of what we have accomplished for Statoil," says Koos-Jan van Brouwershaven, CEO of HFG. "Our design of an unmanned wellhead platform with no facilities, helicopter deck or lifeboats represents a new solution with great possibilities. It meets the challenges of lower investment costs and higher efficiency requirements. The success of this project is due to the excellent cooperation with the client and the combined strength of HFG and HMC from engineering up to and including the installation. Together with Statoil, we come to the best result in all aspects by joining forces."
Final destination of the Oseberg Vestflanken 2 Unmanned Wellhead Platform is the Norwegian part of the North Sea, approximately 8 kilometres northwest of the Oseberg Field Centre. It is the first of three planned phases for developing the remaining reserves in the Oseberg area. The Oseberg Vestflanken Development consists of an unmanned wellhead platform with 10 well slots. Two existing subsea wells will also be reused. The well stream will be routed to the Oseberg Field Centre via a new pipeline, and the wells will be remote-controlled from the Field Centre. The field development will provide 110 million barrels of oil equivalent. Production start is scheduled for the second quarter of 2018.