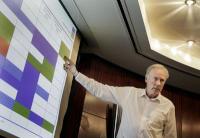 The award is in recognition of his "outstanding, significant and unique achievements, and extensive contributions" to the offshore industry, and is presented at the Annual OTC Dinner Sunday, May 4.
Carl Arne Carlsen's career highlights coincide with major developments in the offshore industry, because he helped shape those developments:
Preventing another Alexander Kielland The defining moment of his career came in 1980, as a direct consequence of the tragic accident of the semisubmersible drilling rig, "Alexander Kielland" that cost the lives of 123 workers in severe weather on the Norwegian shelf when it capsized after a column broke off due to fatigue failure of a bracing.
A few days after the accident Carl Arne Carlsen was appointed head of classification for mobile offshore units (MOU) in DNV and requested to lead the work on developing a new set of MOU rules to cope with harsh environment in the North Sea. In cooperation with the Norwegian Maritime Directorate, the new rules were issued in 1981 introducing new industry principles for more robust design, construction and in-service inspection. They were almost immediately adopted throughout the industry, and provided important input to the IMO's (the UN's International Maritime Organization) 1989 MODU Code.