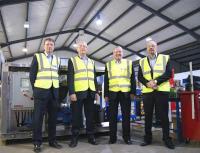 Oteac has acquired critical heating, ventilation and air conditioning company HVAC&R Limited (HVAC&R), in a deal worth £10.25 million with funding from Lonsdale Capital Partners and RBS
The company's acquisition and integration with HVAC&R will create an enhanced engineering services offering for customers' safety needs, as well as providing opportunities for growth both in the UK and internationally.
HVAC&R will retain its name and will become part of the Oteac Group, with its 108 employees more than doubling Oteac's existing staff of 80.
Bill Hogarty, Oteac Chief Executive, will oversee both companies and their integration.
Lonsdale, which holds a controlling stake in Oteac, has also appointed Alan Wilson to be Non-Executive Chairman of the Group, and he brings a wealth of experience in the sector.