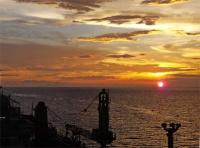 Otto Energy Ltd provides the following update on the drilling of the Hawkeye-1 exploration well, offshore Palawan Basin in the Philippines which has been drilled to the planned total depth of 2,920 metres.
The top reservoir was intersected at 2,710 metres. Hydrocarbons were logged between 2,710 metres and 2,737 metres in reservoir of variable quality and cutting returns provided indications of fluorescence, usually an indicator of liquid hydrocarbons. Below 2,737 metres water was inferred from log observations in a reservoir sequence of good quality.
Hawkeye-1 will now be plugged and abandoned. All measurements are from the rig rotary table.
The drilling program has been executed smoothly, ahead of schedule and ahead of budget. Otto is fully carried on the cost of drilling Hawkeye-1