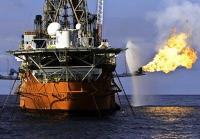 Otto Energy Limited ('Otto'), as operator of the producing Galoc oilfield joint venture offshore the Philippines, provides the following update on the Galoc-5H and Galoc-6H drilling campaign in SC14C, part of the Galoc Phase II development project approved in 2012.
Progress
During the period from 0600 hours (AWST) on 18 September 2013 to 0600 hours (AWST) on 25 September 2013, successfully completed running of the G-5H lower completion and continued operations to run the upper completion and assembly on G-5H.
Forward Plan
The forward plan is to complete running of the G-5H and G-6H upper completions and assemblies and to rig up for the well clean-up flow to surface for both wells.
Location and Proposed Depth
The Galoc field is located in Service Contract SC14C (Galoc Sub Block) in 290 metres of water approximately 65km North West of Palawan Island and 350km south of Manila in the Republic of the Philippines. The Galoc-5H and Galoc-6H development wells are being drilled within the existing producing field that has delivered over 10 MMbbls of production since the field was commissioned in 2008.