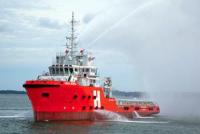 Otto Marine's subsidiary, Go Offshore Pty Limited (Go Offshore) has entered into two long term charter contracts in respect of two 16,000bhp large Anchor Handling Tugs Supply (AHTS) vessels with a large Oil and Gas company, worth approximately US$25.2 million.
Go Offshore is a wholly-owned subsidiary of the Company's owned subsidiary, Go Marine Group Pty Ltd (Go Marine).
None of the Directors or controlling shareholders of the Company has any direct or indirect interest on the above transaction other than through their respective shareholding interests, direct or indirect in the Company, Go Offshore or Go Marine.