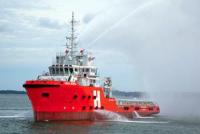 Otto Marine Limited says that further to a long-term bareboat charter contract (the "Charter") that was secured in June 2015, it has taken delivery of a 238-men Work Maintenance Vessel (the "Vessel") to fulfill that Charter.
The delivery ceremony of the Vessel, Nautical Aliya, was held at a shipyard in China today. Nautical Aliya is the first unit of the DPS-2 Work Maintenance Vessel series completed. The second unit is currently under construction and will be completed by the end of this year.
The vessel measures 85 meters in length and 23 meters in width. It has a clear deck area of 635 m2, and is equipped with a deck crane of 80-ton lifting capacity. It was built in a third party yard, and is on schedule for charter deployment in the South East Asia region.
Swordfish 1 Pte Ltd, a wholly-owned subsidiary of the Group, has entered into the Long Term Bareboat Charter for five years in June 2015.