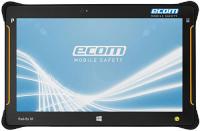 ecom instruments, provider of intrinsically safe mobile devices and solutions such as smartphones, tablets, handhelds and peripherals, strengthens its comprehensive mobile worker ecosystem with a new Windows tablet PC for Zone 2/Division 2 hazardous areas. The Pad-Ex 01 combines robust features and a large screen size (11.6 inches) with superior performance – supporting the latest 4th generation Intel Core i5 or i7 processor and Windows 10 operating system. Its ultra-thin and lightweight housing measures only 20 mm in height and 1.2 kg in weight. Integrated options include 1D / 2D barcode scanner, 5MP auto focus camera and LED flash light.
With Pad-Ex 01 the desktop becomes mobile for field workers and their managers within hazardous areas. It complements or even substitutes desktop PCs, laptops and wall mounted displays, maximising the efficiency & productivity of mobile workers whilst improving ease of use and minimising costs. Possessing an ultra-compact form factor, Pad-Ex 01 satisfies IP65, 4 foot drop and MIL-STD 810G vibration requirements. With its sunlight readable display (brightness: 730 nits), additional display protection and battery life lasting a full shift duration, Pad-Ex 01 delivers the dependability expected by field workers in harsh environments.
Connecting to WiFi and private or public 4G/LTE wireless networks as they become available in hazardous areas, Pad-Ex 01 ensures access is fast and seamless – enabling users to quickly access the information needed to perform the task at hand. And, for sites with no wireless access, Pad-Ex 01 provides the flexibility to work offline, preventing costly infrastructure updates. Central to ecom´s Mobile-Worker-Concept, the latest Bluetooth standards are also supported, allowing real-time connectivity to both Bluetooth SmartReady Low Energy 4.0 (BLE) devices as well as older legacy Bluetooth devices. This allows mobile workers to benefit from expanded Pad-Ex 01 capabilities such as data collection and measuring/monitoring devices, headsets, barcode, and Bluetooth Beacons for localisation.
Pad-Ex 01 is the next step in the evolution of ecom's mobile worker ecosystem, offering an unmatched choice of products proven to work wirelessly together to maximise workforce efficiency and protection – essential elements for the prolonged future sustainability of companies with hazardous areas. It complements the latest ecom mobile digital technologies including the world´s first 4G/LTE Android tablet (Tab-Ex 01) and 4G/LTE Android smartphone (Smart-Ex 01) for use in Zone 1/21 and Division 1 classified hazardous areas. When integrated with the hand-held scanner Ident-Ex 01 and the BLE Beacon Loc-Ex 01, Pad-Ex 01 also enables new levels of collaboration and data collection in hazardous work environments as found in the chemical, petrochemical, pharmaceutical, oil and gas, mining, power generation, and food and beverage industries.