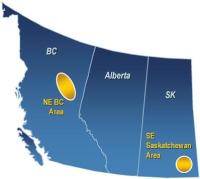 Painted Pony Petroleum Ltd. is pleased to provide an operations and activity update.
HIGHLIGHTS
◾ A 41% production growth in the third quarter of 2013 over the same period in 2012. ◾ The Company had strong peak and final test rates of over 10 million cubic feet per day ("MMcf/d") of natural gas on two (1.0 net) 50% working interest Montney wells at Daiber. ◾ Experienced reduced capital costs and significant production gains from the use of ball-drop completion technology on new Montney horizontal wells.
PRODUCTION AND MONTNEY OPERATIONS HIGHLIGHTS
◾ Painted Pony's average third quarter 2013 field-estimated sales volumes were approximately 8,900 barrels of oil equivalent per day ("boed"), weighted approximately 83% toward natural gas. This estimate represents an increase of 41% over average volumes in the third quarter of 2012 and an increase of 12% from average second quarter 2013 volumes.